WHAT IS ESP 8266/ESP 32
What are ESP Microcontrollers, ESP8266 VS ESP 32,ESP is a series of low-cost, low-power systems on a chip microcontroller
ESP is created and developed by Espressif Systems, a Shanghai-based Chinese company, and is manufactured by TSMC using their 40 nm process.ESP is a series of low-cost, low-power systems on a chip microcontroller with integrated Wi-Fi and dual-mode Bluetooth
ESP 8266
The ESP8266 is a low-cost Wi-Fi microchip, with built-in TCP/IP networking software, and microcontroller capability This small module allows microcontrollers to connect to a Wi-Fi network and make simple TCP/IP connections using Hayes-style commands.
•Microcontroller: Tensilica 32-bit RISC CPU Xtensa LX106
•Operating Voltage: 3.3V
•Input Voltage: 7-12V
•Digital I/O Pins (DIO): 16
•Analog Input Pins (ADC): 1
•UARTs: 1
•SPIs: 1
•I2Cs: 1
•Flash Memory: 4 MB •SRAM: 64 KB
•Clock Speed: 80 MHz
•USB-TTL based on CP2102 is included onboard, Enabling Plug n Play
•PCB Antenna Small Sized module to fit smartly inside your IoT projects
ESP 32
ESP32 is a series of low-cost, low-power systems on a chip microcontroller with integrated Wi-Fi and dual-mode Bluetooth. The ESP32 series employs either a Tensilica Xtensa LX6 microprocessor in both dual-core and single-core variations, Xtensa LX7 dual-core microprocessor or a single-core RISC-V microprocessor and includes built-in antenna switches, RF balun, power amplifier, low-noise receive amplifier, filters, and power-management modules.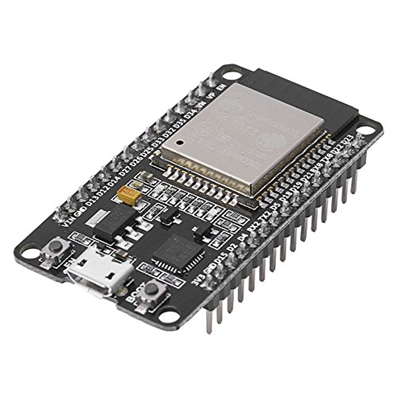 •Microcontroller: Tensilica Xtensa Dual-Core 32-bit LX6 with 600 DMIPS
•Operating Voltage: 3.3V
•Input Voltage: 7-12V
•Digital I/O Pins (DIO): 39 (of which 34 is normal GPIO pin)
•Analog Input Pins (ADC): 12-bit, 18 Channel
•UARTs: 3
•SPIs: 3
•I2Cs: 2
•Flash Memory: 4 MB
•SRAM: 520 KB
•Clock Speed: 160 MHz
•USB-TTL based on CP2102 is included onboard, Enabling Plug n Play
•PCB Antenna
•Small Sized module to fit smartly inside your IoT projects